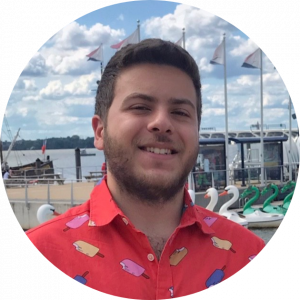 Using Media to Teach and Inspire
Danny Arafa shares how BMS equipped him with the skills to establish projects for Cairo's leading media network and the children's book publishing industry.
Choosing BMS 
Growing up in Egypt, Danny developed an interest in pursuing the creative media field through a fascination with his country's advertising scene. Passionate about learning different skills sets instead of focusing on one area of media and work in a collaborative setting, Danny was naturally drawn to the multidisciplinary UBC Media Studies program.
Collaboration within Cohort
Within the BMS program, Danny particularly enjoyed the aspect of collaborating with his peers through the program's unique cohort structure. In INFO 250: Networks, Crowds, and Communities, Danny worked with his peers to develop and implement a social media strategy for a local community organization, which helped Danny contextualize the project through community engagement. In FIPR 133, Danny, along with classmates Hala, Rama, Aidan, Tamar, and Mariana, worked tirelessly to complete their project, Daily Dose Inc, in a collaborative and creative environment fueled by the passion and interconnectivity the group experienced together. These experiences, among many, to work with his peers who have diverse skill sets taught Danny how to network and bring out people's strengths in projects.
Launching SceneEats
Based on his new interpersonal and media curation skills, Danny saw the opportunity to develop a media project for Cairo's leading media network, MO4. Danny noticed a trend emerging in the Egyptian cultural scene for food-based content, so he took some time away from his studies to approach MO4 with "SceneEats", a love letter to Egyptian food and culture in the form of a  multimedia website and blog. With his pitch accepted on the spot, he was hired as the Creative Lead and the Magazine's Editor – working for four months before its official launch. Attributing to skills learned in Media Studies, Danny was able to coordinate the SceneEats team to help with content curation, video editing, website development, and public relations to complete the impactful project before returning to UBC. The SceneEats Instagram now boasts over 15,000 followers.
Debut Author
In his first year at UBC, Danny illustrated, wrote, and published his debut children's book called The Dace that Flew in Space. Following its publication, Danny travelled to elementary numerous schools in Egypt to read his story and share its message with children. He enjoyed designing the entire literary experience for children, and is interested in how children's literature can be used to illustrate life lessons. At one of his readings, he was introduced to PAF dolls creator Passant Saied who then asked Danny to write and illustrate books about her dolls.
The Places He'll Go
In his final year, Danny feels that he has learned valuable skills sets, such as networking and collaboration that has helped him grow outside the classroom. When he graduates in 2020, many options await him, including studying a Masters in Advertising, going back to Egypt to work on media projects, or continuing to tell interesting stories in different ways by publishing an additional children's book.
For more of Danny's works, you can visit his website or check out his Instagram @dannyarafa